first build/single speed
By ghst99 on 04/23/2008.
Bike tags: Single speed | Commuter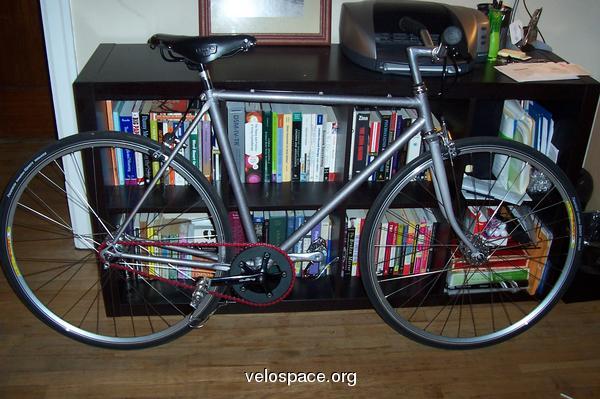 Click to view other photos

no name. Ishiwata tubing. No idea of frame size

Nitto B211AA risers & Nitto Technomic stem

Ishiwata stamped & Tange Sekai headset

Mavic CXP22 with formula hub

Mavic CXP22 with formula hub

Sugino RD Messenger (mismatched RD crank arm on non-drive side) & Shimano BB

Brooks B-17 saddle & no name seat post

MKS Sylvan (no straps yet)& KMC Z chain(red, because it is her favorite color)

Shimano single speed 47x16
My first build for my GF. Got this frame from a friend (Ishiwata stamped on frame and forks), Built it up except for the brakes which were done at the LBS. (If I were to do the brakes, my GF would be dead by now, I'm sure).
Can't find much info on Ishiwata except they made tubing for a lot of bike companies from crap to pretty good. No Idea what this tubing is. probably lower end..