My KHS (Sold)
By G0balistik on 09/15/2006.
Bike tags: Fixed gear | Track bike | 650c | aerospoke | gold | khs | Track |
Click to view other photos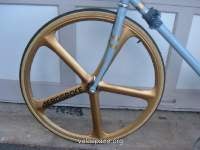 60cm KHS track I DON'T OWN THIS FRAME ANYMORE (Miss it though)

aluminum something, shimano600 sealed bearing

32h Phil high flange hub laced to a velocity aerohead

sugino xd 165, shimano somthing

broken fizik arione, cheap
The feather behind the seatpost definitely speeds everything up. i have chipped up the paint some, but it doesn't matter. I like repainting bikes.