Mercier Urbanismo
By Hrrundel on 09/14/2006.
Bike tags: Fixed gear | mercier
Click to view other photos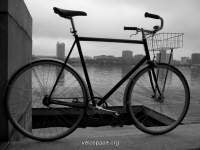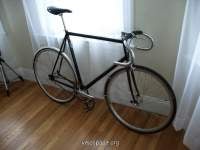 Nitto / stock / chrome bell

stock / stock /Campagnolo front brake

Phil Wood to Mavic CXP 30

Phil Wood to Mavic CXP 14 (not pictured in this photo)

whatever works at the moment
Riding upright (could be) is a blast! This bike is very heavy (compared to my other bikes) but I love the responsiveness of the pure aggressive track geometry. Very steep angles. Sublime.