Aria
By aperfectdork on 03/23/2008.
Bike tags: Fixed gear | Aria | Dickinson | Fargo | Messenger | motobecane | pirate |
Click to view other photos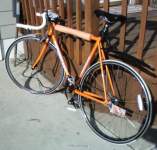 2008 Motobecane Messenger 56cm Orange Flake Finish

Vintage 3 speed bars off of a bike I'm converting , Forged/Welded Aluminum, O degree, Removable Clamp, Black Finish Stem

Motobecane Custom Drawn Triple Butted and Tapered 4130 Cromoly Aero Road Fork, Sealed Bearing Chinhaur Headset

Bontrager Race Lite 700c, Vittoria Rubino Pro 700x23c

32H DRX2000 Aero Track DoubleWall, black anodized Rim Vittoria Rubino Pro 700x23c

Sugino 75t crankset, TruVativ Touro Bottom Bracket

SL Turbo Style Racing, Cromoly Rail, SL Micro Adjust Aluminum 250mm X 27.2mm

Wellgo LU-961 Clip and Strap Pedal Set, KMC Z410 3/32

TruVativ 48t Chainring, Surly 17t Track Cog
I've had many ups and downs with this frame, and so far the only things that are stock are the seat/seatpost, fork/frame/headset, rear wheel and stem. Currently looking for a short quill stem or thinking about putting on a cinelli alter. Also, Deep Vs may be coming soon, since I may just use these wheels for a conversion.