On One Inbred 29er SS
By Velociphile on 03/19/2008.
Bike tags: Single speed | Mountain bike | 29er
Click to view other photos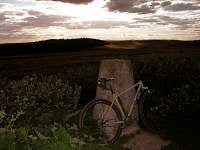 On One Mary with 80mm 6 degree. Ladybird bell. Also tried the Mary flipped over

Reetard rim on Planet X hub with Avid 185 disk Juicy 3

As front. 160 disk, Kenda Nevegal 2.2

Was Truvativ GXP now Shimano LX HTII
Some people have trouble with the crank loosening. That's because they don't tighten it enough. The Gigapipe needs 48-54Nm on the left crank bolt. Use a torque wrench! Now running ghetto tubeless.