dolan fixie
By chappers on 03/16/2008.
Bike tags: Fixed gear | 52cm | Dolan | fixed | Terry Dolan
Click to view other photos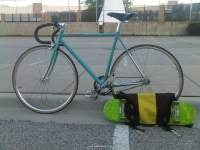 bars by fireeye. stem by flybikes. grips by oury.

cheap fork alpina head set.

salvaged 105 crank and bb

salvaged post from dad's old racer, tour of britain seat

MKS pedals and clips (not in pic), gusset half link BMX chain

durace cog and lock ring. (38/14)
thankyou:
www.charliethebikemonger.com (all round nice guy, distributer of fine shiny things and sweets, fixer of many problems via email)
www.freshtripe.co.uk (top quality bits and bobs)
www.hubjub.co.uk
www.ribblecycles.co.uk (lending me tools, being top blokes)
watch it evolve, next up a nice set of deep v's. then forks... oh i need more money!