Custom Frances Break-Away Track Bike
By malloryfrancesca on 02/02/2008.
Bike tags: Fixed gear | Track bike | Frances | Ritchey couplers
Click to view other photos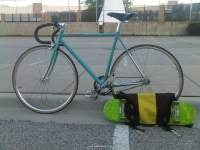 55-squared Custom Frances Break-Away Track Frame out of Santa Cruz, CA

110 Cinelli Stem, Nitto B123 Handlebars

Matching Undrilled Custom Frances Fork, Gold Chris King 2Nut Headset

Crap Spinergy shown. Currently riding a loaner-Phil + Deep V =/

36 hole Dura Ace fixed/fixed hub laced to an old Campy rim, 4x

165 Sugino 75, 49t 75 chain, Phil Wood bb

27.2 Thomson Masterpiece with an old red leather Velo saddle

MKS pedals, MKS double straps, Sram black and gold chain

Suntour 16, Dura Ace 18. Currentlly riding 49/16
This is a breakaway track bike. The Ritchey couplers are a unique addition to this bike, or any bike for that matter. Notice the dimple in the seat tube for tight-as-fuck clearance. Also, the curved seatstays and chainstays (framebuilder's signature). The other thumb is my frame when it was first built. A diamond in the rough. I'd also like to add I now have bar plugs.