☆ BARE KNUCKLE ☆ TRACOON!
By HALIMANDER on 01/15/2008.
Bike tags: Track bike | aerospoke | bare knuckle | Chris King | EAI | San Marco Rolls | sugino 75 |
Click to view other photos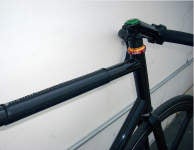 Deda Pista, Dimension (hard to find a good threadless stem with a steep angle!)

Bare Knuckle, Chris King Rasta

aerospoke track with custom vinyl (TOO HEAVY- SOLD) or Mavic Elipse (when I want to drop some lbs)

Sugino 75 black, Sugino 75

San Marco Rolls, Miche Supertype

MKS Stream, MKS black cages, IZUMI Super Toughness (MKS chain tensioner)

EAI 17 Sugio Zen Racing 48
It's a daily rider and it sure takes a beating well... also shows a hand-stitched leather top tube protector to lock 'er up. TRACOON!