1974 Raleigh Professional ~ Blue Mink/Silver Featured Bike!
on 10/7/2010
By abstrait on 01/10/2008.
Bike tags: Road bike | 1974 | 61cm | Brooks Team Pro | campagnolo | carlton | cinelli | england | fastback seatcluster | Great Britain | Mavic 550 RD Hubs | mavic open 4 CD | NC | North Carolina | nuovo record | omas | pro | raleigh pro | raleigh professional | Reynolds 531 | veloflex pave | vintage steel | worksop |
Click to view other photos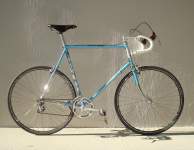 I credit this '74 Raleigh Professional, Carlton/Raleigh's nod to Italian design, for
really getting me back into cycling daily. The Victor Fastback seat cluster DL-180
Mk IV is actually a take-off of the Carlton Giro d'Italia, which came out in 1965.
While there are some refinements in Raleigh's version, it's very much in
the same vein with the addition of the Campag sidepulls vs the centers on the Carlton.
The rear triangle is tighter and the BB higher on the Raleigh DL-180.
In my opinion, this Blue Mink Raleigh Pro is one of the most beautiful paint schemes
with the ST panels backing the matching silver head tube. The silver/blue mix is a perfect
set-off for the chrome on the rear triangle and fork arms. Surprisingly, the
lug work is rather impressive with the thinned long points looking more refined; my
version is evidence that the boys in Worksop must have had an extremely good day (I've
seen some Pros with less than stellar details). The Victor fastback seat cluster and
Cinelli crown are highlights with both probably contributing to extra stiffness, the
rear triangle a relatively stiff affair. The fork on the Pro is raked far more than
its Italian brethren, a throw-back to days of old.
You sometimes read negatives about Raleigh Pros being harsh; personally, I don't find this
the case, although it's more rigid along with the Cinelli fork crown, leading to potential
transmission of road irregularities. Geometry-wise, it's no Raleigh International,
possibly one of the most relaxed frames around, decidedly biased towards the touring vein.
The Pro is responsive without being twitchy at all and gets the power to the pavement due
to the relatively stiff rear triangle. Simply put, it's a joy to ride and it gets many
compliments every time out. Once you get a handle on the bike's fall-in properties,
it's not an issue in corners, though it does handle differently then my Italian rides.
The Raleigh Pro of this era came over to the USA with an uber high bottom bracket to
help avoid pedal strike in criterium racing.
In my opinion, Campagnolo Nuovo Record is form/function/beauty combined, with it taking a
more industrial beauty over the lighter Super Record that was soon to follow. I never tire
of looking at this bike whether on wall or road.
The period correct Brooks Team Pro, which is a long distance champion, fitting like a glove
(even if a heavy as hell glove), is revolved with a Selle San Marco Concor, still one of my
favorite Italian saddles. A Unicanitor #1 sees some use as well. The near bulletproof and
true Mavic Open 4 CD rims anodizing have seen better days due to pad wear, but these wheels
are still going strong and the Michelin Pro2 Race are an excellent match. The original
Open 4 CD might just be my favorite clincher despite the pad wear. This rim can be laced into
quite a rigid and strong option and I prefer them to later Open Pros.
Lately, this bike shares weekly rotation with my '83 De Rosa Professional, '84 Ciocc,
'83 Colnago Super, and '72 Raleigh Pro Track. Waiting in the wings next will be the
'73 Pogliaghi Italcorse, and 01 Cinelli SC.
kh
_____________________________________________________________________________
Frame & Tubing
'74 Raleigh Professional Mk IV DL-180 ~ 24.5/61cm C-T ~ Reynolds 531
Victor Fastback seatcluster ~ Spearpoint Latin Line Lugs
Fork and Headset
Reynolds 531 w/ Integral Sloping Crown - Campagnolo ends ~ Campagnolo Nuovo Record Headset
Handlebars and Stem
Cinelli Giro D' Italia 64-42 ~ Cinelli 1A 140mm ~ Ambrosio Bike Ribbon
Brakes
Campagnolo Nuovo Record Calipers w/Pads & Nuovo Record Levers ~ Campagnolo Hoods
Front Derailleur
Campagnolo Nuovo Record
Rear Derailleur
Campagnolo Nuovo Record ~ Pat 72
Shifters
Campagnolo Super Record DT
Gearing/Freewheel
Regina Extra 7 (12, 13, 14, 15, 16, 17, 18)
Crankset and Bottom bracket
177.5 Campagnolo Record Strada 53/42 & Campagnolo Nuovo Record BB
Pedals and Chain
Campagnolo Superleggeri w/Campagnolo Alloy Clips & Alfredo Binda Straps / Sedis
Saddle and Seat Post
Brooks Team Professional & San Marco Concor Supercorsa / Campagnolo Nuovo Record Post - 27.2
Front wheel
Mavic Open 4 CD (36) ~ O.M.A.S. Hub ~ Michelin Pro 2 Race
Rear wheel
Mavic Open 4 CD (36) ~ Mavic 550 RD Hub ~ Michelin Pro 2 Race
Weight
22lbs
More photos: http://i-vol.com/bikes/raleigh_professional.htm