Bianchi San Jose Fixed -SOLD-
By dellapentagram on 12/20/2007.
Bike tags: Fixed gear | fixed gear | SF
Click to view other photos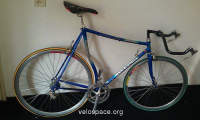 MKS GR9 platform pedals with MKS Half Cages
Bought this as a single speed, and converted to fixed, completely fell in love in with it.
This is still a work in progress for me.