Black Karate Monkey: SOLD
By nruntsch on 12/20/2007.
Bike tags: Single speed | Mountain bike | black | dual duty | iowa | karate monkey | medium | Minnesota | mountain bike | panaracer | rampage | surly | WTB |
Click to view other photos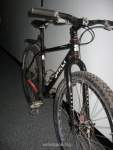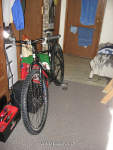 2007 Surly Karate Monkey - Surly 4130 steel

No name risers on a no name stem from a Marin Nail Trail FX

Surly straight blade 4130

Shimano M475 laced w/ DT 2 mm spokes to WTB Dual Duty 29er rims with Panaracer Rampage tire

Same with cassette body with Panaracer Rampage tire

Shimano Deore crank (triple), UN54 or something

Sakae track pedals, Shimano HG chain

32x20t with Surly ring and cog
I got this bike for a really good deal from an LBS because the frame has slightly screwed up decals. I've been doing some winter biking with it and it's a sweet bike.