1990 cannondale SR600 criterium
By trainwindow on 12/14/2007.
Bike tags: Road bike | 1990 | aluminum | bullhorns | cannondale | Criterium | Downtube Shifters | geared | red | road | shimano 600 | thick tubes |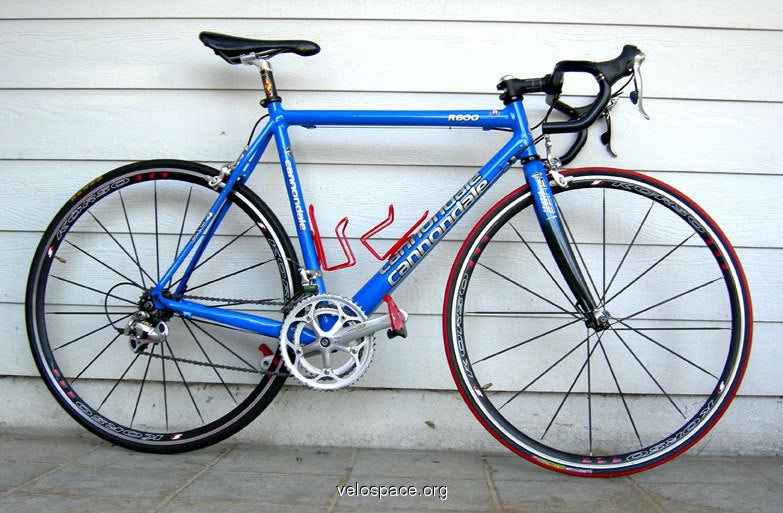 Click to view other photos

56cm cannondale 3.0 series criterium geometry

nitto bullhorns, 110mm cinelli Xa stem

shimano 105/machined silver deep v/continental ultra sport

shimano 105/9spd SRAM cassette/machined silver deep d/continental ultra sport

shimano 105 double/shimano BB

generic platforms & plastic clips, SRAM chain

Dura ace 9spd. downtube shifters
I've always loved early cannondale road frames. been looking for one for a long time and finally found this beauty through facebook marketplace for 220$. the criterium geometry is not joking around - this bike feels more twitchy than my IRO.
I rode it for a while with the stock set up, then i stripped it down and sent it to be sandblasted and powdercoated red. I picked all new components from ebay, nasbar, and jenson and had it all built up at Ada bike shop here in grand rapids, MI.
My goal was this - a road bike set up for the city, comfortable enough for long road rides, and modern enough to stick with the roadies at local shop group rides.
almost finished, still have to:
-dial in my stem and post heights.
-peel those damn velocity stickers off.
-throw a frame pad on there to cover those zip ties.
www.positivecycling.com