"Charlie" my Benotto single speed that was abandoned and rescued .........
By simsob23 on 11/30/2007.
Bike tags: Single speed | single speed
Click to view other photos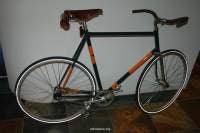 Nitto with a Cinelli stem

For now Shimano but a vintage Campy hub is being built

Campagnolo Pista crank with light weight pista chain ring

Brooks B-17 Limited edition and Campagnolo post
This bike was rescued from the previous owner that abandoned it at a bike shop, before it was going in the trash bin. Quite a bit of frame work and now the fun task to make it an all Italian older single speed bike. My first single speed bike !!!