blacked out philly pake
By prin on 11/26/2007.
Bike tags: Fixed gear | Track bike | 53cm | black | dp18 | octalink | Pake | philly | powergrips |
Click to view other photos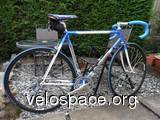 nashbar bullhorns, bontrager stem

weinmann dp-18 rim, velocity hub

weinmann dp-18 rim, velocity hub

shimano 105, octalink bb. came with the bike, not my first pick - chainline is slightly off with the ring on the outside.
bought myself this for my 30th b-day. got it complete off of ebay, swapped out the pedals, bars.
12/07/07: crappy end to a crazy week. defended my phd earlier this week only to nearly get run over by a negligent motorist tonight.
car slowed down at the sign, but instead of stopping, accelerated at the last moment. managed to turn so that my shoulder and bag took the brunt of it. hand's a little bruised up and my shoulder's a little sore. macbook got the worst of it. it's fucked. luckily, i handed in my thesis earlier today. could have been a lot worse in so many regards. glad my neurosurgeon buddy goaded me into wearing a helmet a couple of months ago.
think i will be putting a light on after all..