Blingin' Raleigh Mixte Single Speed
By hardsole5280 on 11/19/2007.
Bike tags: Single speed | Brooks | girls bike | mixte | nitto | paul e brake | single speed |
Click to view other photos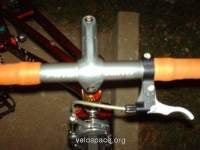 Nitto pursuitbars wrappped in leather Brooks tape/Raleigh stem and a Paul ebrake lever
My girlfriends steed. Gold Velocity wheels soon!!