Huffy Independence
By shoegazer on 10/22/2007.
Bike tags: Road bike | 10_Speed | 1976 | 70's | huffy | independence | jun | persons | shimano | wald | white |
Click to view other photos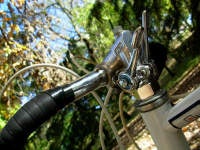 Sakae Ringyo JUN-50 Stem, Sakae Ringyo Custom Handlbars?

Huffy Fork (with a huge rake), Huffy Headset

Rigida Chromage Superchromix Rim, Bontrager Sport B Tire

Araya Rim, Bontrager Sport B Tire

Persons Saddle, Huffy Seatpost

Shimano Eagle Rear Derailleur, Shimano Thunder Bird GTO Front Derailleur, Shimano 333 Stem Shifter, Shimano Freewheel
This bike was originally my grandpa's, which he then gave to my dad. It doesn't have very many miles on it and is in great condition. The parts are mostly original that I know of accept for new tires and tubes. I also have the original saddle bag and owner's manual that came with the bike. It's a very solid ride, much to big for me though. If anyone knows anything more about this bike, any history would be great to know.