if this was a frog it would be dangerous
By clarf on 10/08/2007.
Bike tags: Single speed | Miami Vice | peugeot | poisonous frog | single speed
Click to view other photos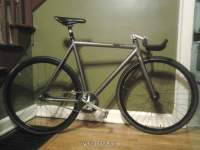 the one that came with it!

the ones that it came with
i got this on craigslist for pretty cheap, so i wanted to turn it into a fixie. i have a hub to lace into the back and i really want to cut the bars. its gonna take a little work, but its pretty fun, and my buddy told me that it looked like a poisonous frog although it initially reminded me of a miami vice bike.