Pinarello_Veneto_(SOLD)
By musclanis on 10/06/2007.
Bike tags: Road bike | campagnolo | columbus | Melbourne | Pinarello | Road 57cm | Veneto |
Click to view other photos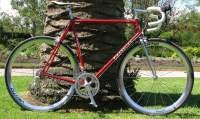 Nitto bars and Cinelli Pinocchio stem

Straight CroMo forks Tange headset

Campagnolo Victory / FSA Carbon

SLR XP with Campagnolo Chorus aero seatpost
Sold to das_weg. Not an easy bike to let go, i loved this bike. Happy that it has gone to a good home.
Nice to have my first build finished, now its time to do some riding.
Bought the frame on ebay a couple of months ago. Had it powder coated and now i am building it up as i find the bits and pieces. Love how it is coming together especially the wheels, they just look insane.
Will post updated pics in a few weeks when its complete.