The Headless Tuxedo
By enopola on 09/26/2007.
Bike tags: Fixed gear | Track bike | Chris King | custom paint | jaguar | MKS | nitto | njs | phil wood | Swobo | velocity deep v |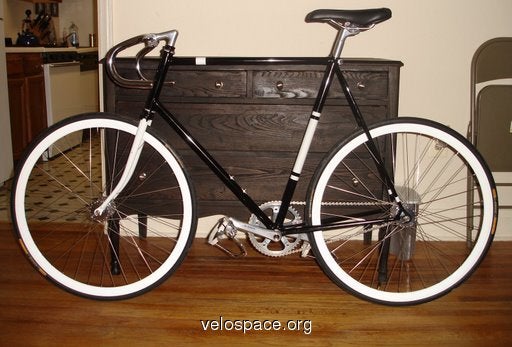 Click to view other photos

Shaved Schwinn World Sport

Nitto B-125 Track Handlebars, Nitto Jaguar 80mm

Schwinn Stock Fork, Chris King 1in, 2nut Headset

Velocity Deep V, White w/ Phil Wood High Flange Track, Silver

Velocity Deep V, White w/ Phil Wood High Flange Track Non-Flip Flop, Silver

Silver Sugino 75 w/ 48t chainring, Phil Wood Stainless Steel Bottom Bracket

Swobo Cart saddle, Nitto Jaguar seatpost

MKS Custom Nuevo w/ Campagnolo Record white leather toe straps, and MKS steel toeclips. Izumi "Eco" 1/8" chain

EAI Superstar 1/8" 15t, Continental GP4000 700x23 Tires
I'm very proud of this bike, it was my first fixed gear. I bought a full '80's Schwinn World Sport took it down to the bare metal. From there I repainted the bike and built it back up. The only original parts are the fork and frame, every other piece was individually picked. The wheels were even custom built. Took about three months to get everything together and the money but I can't wait to start building another.