LEVEL Super Prestige
By RyeBokeh on 09/08/2007.
Bike tags: Fixed gear | alameda | Ass | Balls | Berkeley | Douche | dura ace | keirin | Koichi Nakano | LeveL Super Prestige | mash | Matsuda | montano velo | nitto | njs | Oakland | regal | San Francisco | sffixed | Smack | spinergy | Spinergy Rev X | sugino zen | Sumino Matsuda | suntour | Suntour Superbe Pro | Superbe | superbe pro | suzue | Toshi |
Click to view other photos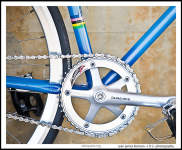 Stock LEVEL Fork, Suntour Superbe Pro Headset

28 Silver Velocity Deep V to Suzue Pro-Max Carbon Hub w/ butted Sapim spokes and black brass nipples or Spinergy wheel of death!

28h Silver Velocity Deep V laced 2X to Suzue Pro-Max Carbon Hub w/ double butted Sapim spokes and black brass nipples

Dura Ace 7710 Hollowtech, matching Bottom Bracket, Sugino Zen Ring

Selle San Marco Regal (Luigi Girardi Edition) boxed aluminum rails and copper badges, Suntour Superbe Seat Post

MKS w/ Toshi Double Toe Straps, Izumi

Phil Cog, Shimano UFP 10 Dropouts, Oury Grips
Brief History:
Originally called "Le Velo" later shorted and changed to their current name "LEVEL"
Old School 1980s LEVEL Super Prestige frameset with 1985 Koichi Nakano Superbe Pro Championship V9 sticker.
Bottom Bracket Stamp info
59.2.8
M411
59.2.8 is the year/month/date. In Japan, the era name before the current 'Heisei' was called 'Showa', and 'Showa 59' is 1984. Built February 8, 1984. The 'M' of M411 is the initial of Matsuda-san. '4' indicates the 4th year of the eighties, and '11' means 11th frame built in that year. He was registered as NJS (#192) in 1980. Decals are original before he started using the symmetrical logos for the race frames.
Once owned by Keirin Rider Henry Shibata who now coaches at Encino Velodrome in California.
I ride her daily, nightly and ever so rightly.