Rusty Racing Razesa
By mattface on 09/05/2007.
Bike tags: Road bike | 80s | Razesa | Spanish | tubular
Click to view other photos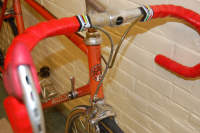 Mavic GP 4 Tubular Ofmega hub 36 spokes

Mavic Speciale Sport Tubular, Dura Ace 6 speed cassette hub upgraded with 8/9 speed cassette body 36 spokes

Brooks Professional, Dura Ace

9 Speed Ultegra 12-25 DA indexed DA shifter, Shimano 600 RD, Suntuor FD. Shimano 105dual pivot brakes, Diacompe levers
When I found this bike it was a weird parts box contraption, but it worked... mostly. The frame is a little rough looking, but it's beautifully made from columbus tubing. The parts on it though they didn't match were mostly very nice. I replaced the tires thinking it was nice to keep it period appropriate, and cheaper than buying a decent set of clincher wheels. Especially since the Shimano 6 speed dura ace Uniglide stuff would also have needed replacing. Unfortunately, no sooner had I got the new tires on than I discovered the rear freehub was toast. So I ordered an 8 speed DA freehub body off ebay, and waited a long time, riding on a crunchy freehub in the meantime. When I got the new freehub I upgraded it to 9 speed swapping the Rear derailer to a SIS compatible Shimano 600 one. Then less than a week later i bent the rear rim. GROAN. Yes hindsight being 20/20 it would have been cheaper and better to invest in a nice clincher wheelset, but now that I have my new rim on there it's a unique vintage racer style bike with modern gearing. sort of a best of both worlds sleeper.