J'aime mon petit vélo
By hellolovely on 09/03/2007.
Bike tags: Road bike | 1990 | Bianchi | celeste | cute | Downtube Shifters | Sport SX |
Click to view other photos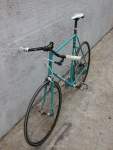 bianchi sport sx doubled butted cro mo

nitto moustache, sakae custom

mks touring pedals, kmc z ten speed

all shimano exage components.
bought in 1990 by some guy and NEVER ridden. got her a few weeks ago. only needed some cosmetic work and new cables and tires from sitting for so long. some new bars and pedals later we have a beautiful little bike on our hands.