'85 Peugeot Ventoux reborn!
By Ruben Alvarez on 05/27/2016.
Bike tags: Road bike | classic | Continental | full restoration | mavic | nitto | peugeot | shimano | Thomson |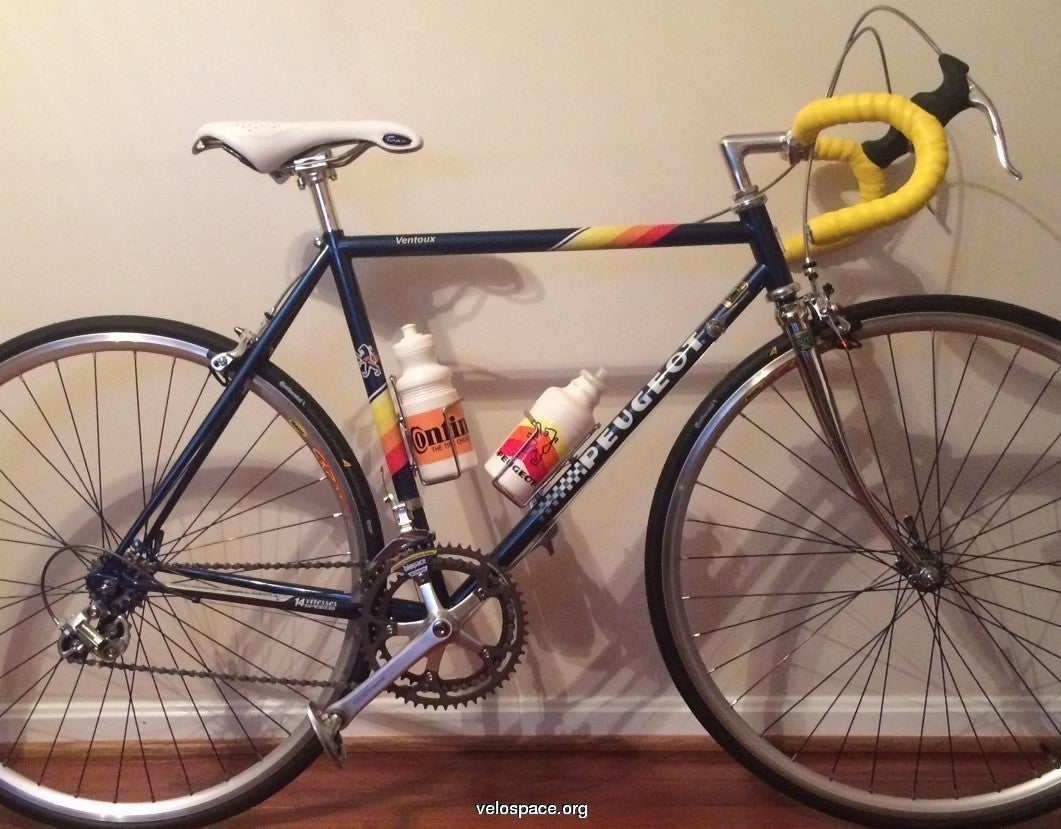 Click to view other photos

Reynolds 501 Chromally / 55cm / 1985

Nitto Randonneur / Nitto Pearl

Standard chrome fork / Shimano Ultegra

Shimano 105 gunmetal / blk spokes / Mavic CXP 33 / 700x25 Continental Grand Prix 4 Season-Black Edition

Shimano 105 gunmetal / blk spokes / Mavic CXP 33 / 700x25 Continental Grand Prix 4 Season-Black Edition

Selle Italia Gel Flow Max / Thomson

Shimano Dura Ace 7 SPeed in gunmetal / Shimano 600

Shimano 600 with drilled brake levers

7 speed cassette / 42-52 anodized Biopace chainrings
Hello folks! I wanted to share my ride with everyone out there who loves Peugeots. My first road bike when I was in high school was a 1985 Peugeot Ventoux. Over time I traded out the stock parts for Shimano 600, Mavic wheels and Nitto bar and stem. Unfortunately, I sold it like an idiot for reasons we won't discuss. Fast forward to 2007, Iraq deployment. I got a wild hair and decided to see if eBay and the internet could help me rebuild my faithful stallion. So thanks to various sellers around the world, I found the same model bike and all new old stock components. I had them shipped home and after the deployment, began the rebuilding process. The biggest part of this build was obviously the frame. The paint was bad, the decals peeling and the chrome fork had a decent amount of rust. Well, thanks to the folks at Cyclart in California, they truly pulled off a miracle. They color matched the original paint, reproduced the decals, clear coated over the decals and had the fork re-chromed. I had them make a few changes though and I don't regret it. They internalized the top tube cable to get rid of the unsightly cable clamps, changed the rear chain-stay decal to say "14" instead of "12" since it is now a 14 speed, and mounted a head tube badge off of a '70s Peugeot instead of reproducing the original decal. No, this isn't exactly the same setup as my original Peugeot, but I really like the fact that it also turned out to be a tribute to '80s Shimano components by incorporating pieces from 105, 600, Ultegra and Dura Ace. Recently, I added some classic bottle cages from zefal, as well as new old stock water bottles by Peugeot and Continental. Please check out the pics and specs. I've only taken it out several times, which has caused my wife to classify it as wall art, but I don't mind since I have a Pinarelo as my regular ride.