Zunow // 1991 // Di Picce // "Pink Smoke"
By Tmeck on 09/03/2015.
Bike tags: Road bike | 6400 | Continental | ditchex | gp4000 | H+son | japan | japanese | lug | monostay | nitto | pantograph | pentaglia | shimano | ultegra | Zunow |
Click to view other photos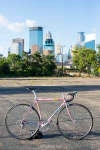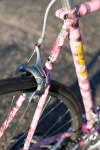 Zunow Di Picce / 51cm / ~1991

Nitto M106NAS / Nitto Dynamic 10

H+Son TB14 hard ano / C-4 / CX-Ray / GP4000SII

H+Son TB14 hard ano / C-4 / CX-Ray / GP4000SII

Shimano 600 Tricolor / Shimano 600

Specialized Phenom / Nitto Dynamic

Shimano 600 STI / Shimano 600
Had the frameset for close to 2 years before switching jobs granted me enough money to build this up the way I wanted to.
Tried to stick with as much Japanese parts as I could, hence the Shimano and Nitto kit. The rest of the build I did to preference with an emphasis on preserving the "classic" look of such a nice vintage frame.
The Di Picce was second in the Zunow hierarchy. The Z1 was the only frame above it. There's so much detailing on this frame that I can't even post half of it with Velospace's image limit. But you name it, if there's a tube junction, there's pantographing/fill painting. The frame and fork are also fully chromed beneath the paint, and the dropouts are Campagnolo f/r. Zunow's proprietary "Ditchex" tubing is shaped and heavily butted on certain tubes, and the chainstays are asymmetrical to balance pedaling forces. The rear brake housing is also semi-flush into the top tube.
All in all a sweet piece of Japanese frame mastery.