Chesini X-Uno
By Roni Solomon DDS on 02/22/2015.
Bike tags: Road bike | 1R | campagnolo | chesini | cinelli | classic | columbus | mavic | Modolo | road bike | super record | vintage | x-uno |
Click to view other photos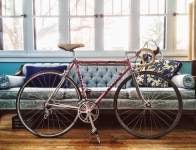 Cinelli 66-40/130mm Cinelli 1R

Chesini/Campagnolo Super Record

San Marco Rolls/Campagnolo Super Record

Campagnolo C Record/Campagnolo Super Record
I purchased this as shown from one of my loyal Instagram followers because he thought I could give it a good home. It came with a bunch of killer period parts. My only plans for it are to relube everything, replace the cables, put on some fresh tape, and new tires. As far as I am concerned, it is perfect as is.