Eddy Merckx MX-Leader 1998
By Smiley on 07/04/2014.
Bike tags: Road bike | 8-speed | Amsterdam | cinelli grammo | Columbus MXL | Dura Ace 7410 | eddy | mavic cosmic pro | Max | Merckx |
Click to view other photos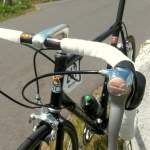 Look Keo Max II Blade / KMC
Finally found my MX-Leader! Thanks to Pullup for hooking me up with the flawless group set, which fits the frame darn well and rides fantastic. Can't wait to get out again.
It has probably been repainted at the factory at some point in time. Paint looks new and the decal 'Original Eddy Merckx paintwork' on the low end of the seat tube is a giveaway.
Super racey geometry, corners like my Zieleman crit bike but with a more modern feel. Still with the comfort of a steel frame.
Pics are of the maiden ride after the build was finished. The chain in the pics was a tad too short and has been replaced. Race number plate was on there for the fun of it. Oh, and the front tire is mounted backwards (by previous owner though)...
October 2014: Now with Mavic Cosmic Pro alu wheels. They are faster, but I don't know about the look. I still need a new pair of matching tyres. I've still not decided between gumwall Vittoria's or black Conti's.