Davidson Trackster
By Barnett on 06/25/2014.
Bike tags: Fixed gear | Track bike
Click to view other photos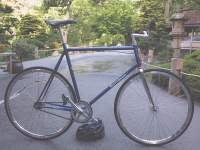 Davidson Trackster 60cm CT x 58cm TT ( year unknown )

Livery Design Gruppe / 3TTT 135

H+Son Archetype / Velocity / BT1

H+Son Archetype / Suzue Promax / BT1
Really wish I had the original fork for this thing. Tried contacting Davidson 3 different times to see about getting one made, and they never responded. Cool.
Not sure about the year either. Has the name "Brett Lindstrom" on the top tube.