Fiorelli Milano San Remo [parted & sold]
By tracksloth on 06/19/2014.
Bike tags: Fixed gear | Vintage Italian road bike
Click to view other photos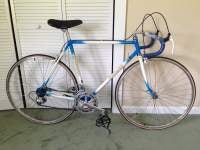 Fiorelli Milano San Remo Columbus Aelle (1982#4)

San Marco Sprint / 26.8 Campy Fluted "G.L"?-??

Miche (MKS Sylvan+Christophe)

Modolo Corsa (Dura Ace 7800)

Fiorelli-stamped fork ends, Coppi-stamped rear dropouts
Oops I did it again. I just finished one project and stumbled onto another. The frame is very nice and glides on pavement. Superbe craftsmanship, I must say. I would sell it if someone was interested, but if not, I'll have a sick townie. Any recommendations on a front rack?
(Changes are in brackets.)