Tommasini Air Prestige
By smashworth on 06/03/2014.
Bike tags: Road bike | American Classic | cinelli | columbus | road bike | shimano 105 | shimano 600 | steel | time trial |
Click to view other photos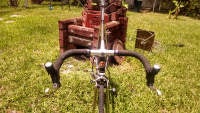 Tommasini Columbus / Stronglight Delta

American Classic / Panaracer tubular

Shimano 600 Tricolor / Gatorskin

Shimano 105 / FD 600 / RD 105
Picked this up off of CL. It was a deal I could not let pass by. Really fast and fun to ride
Removed the aerobars. Had to rebuild the headset with a fresh bearing kit and needed to adjust the drivetrain. Now, it's good to go.
Recently added some Cinelli drop bars. Just wanted to try it out on a few rides. Eventually I'd like to have pursuit bullhorns with bar-end levers.