By Carlton Patina on 08/27/2007.
Bike tags: Single speed | 27 | British | campagnolo | carlton | chrome | classic | english | Ron Paul | single speed | steel | vintage |
Click to view other photos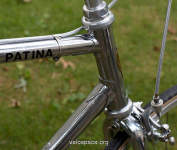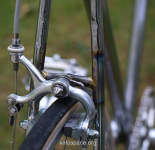 Carlton X2401 - Probably a 1967 Cobra

Cinelli Stem and 64-40 Chopped

Tange Fork and Campagnolo Headset

Campagnolo Record Hub 32H, DT Spokes, Sun M13 II 27" Rim, Avocet Time Trial 30 Tire

Campagnolo Record Hub 32H, DT Spokes, Sun M13 II 27" Rim, Avocet Time Trial 30 Tire

Campagnolo Super Record Crank, Campagnolo Bottom Bracket

Brooks B17 Saddle, Campagnolo Post

Campagnolo Pedals and Clips, SRAM PC-1 Chain

White ENO 16T Freewheel, 46T Chainwheel
This bike is getting me back on the road after being away from riding for about 20 years. This build took a little longer than expected because I wanted to use short reach brakes and a Campagnolo bottom bracket and crankset. This frame originally had very long reach center-pulls and a Raleigh threaded bottom bracket shell, so some brazing and retapping were involved. Because this frame had a fairly long and not-so-easy life before I aquired it obsessive finish work was not necessary. This frame and many of it's components have truly earned the name Patina.
The chain line is straight, it rolls very well and it's fairly relaxed geometry is quick enough for an old guy like me. That Tange fork is the only shortcut that bothers me, I'll probably be replacing that when I find something more appropriate.
I believe this frame originally came with 27" wheels so I stuck with those. I set the new rear brake bridge up for 700C and the fork is 700C so I modified some brake shoes to allow "super-short reach" with the 27s. This will give me more options in the future. In this configuration the bike weighs 22 pounds.
For pictures of this frame when I got it: http://home.comcast.net/~colinmil/carlton.html
For Ron Paul: http://www.ronpaul2008.com/