Rock Lobster
By bradzbikes on 10/12/2013.
Bike tags: Road bike | Mountain bike | Commuter | campaglolo | rocklobster cycles | steel frame | Touring | Cyclocross |
Click to view other photos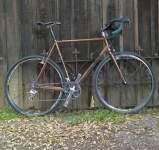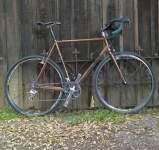 Ritchey bar / Rock Lobster stem

Chris King / Rock Lobster

Aksium with Continental Cross tires.

same as front. I like these wheels. I hear bad stuff about them, but I find them easy to tune, and pretty reliable for the price

shimano / shimano external
This is my most ridden bike, I love it. I can ride it all day. It's light enough, takes a beating well, and is my friend. After a fairly gnarly crash a few months ago due to my stem breaking, I had to replace my bar, stem and levers. Paul Sadoff made me a brand new stem with the original jig but using beefier steel and a bigger bar clamp to accommodate a new bar. I finished it off with Brooks tape, and now I love this bike more than ever.