ca. 1984 Katakura Silk
By azorch on 09/28/2013.
Bike tags: Road bike | brevet | Brooks | chrome | japan | Katakura | lugged | randonneur | randonneuse | road bike | Silk | touring |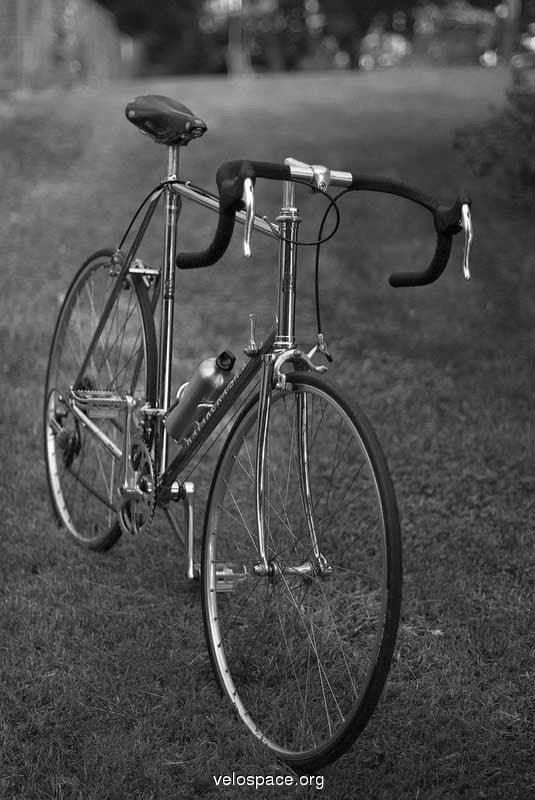 Click to view other photos

ca. 1984 Katakura Silk, 61cm c-c

NOS ca. 1980 Brooks Pro replaced the POS that was on there/SR stem

KKT balanced platforms, with added long cages and hand-cut, hand-stitched leather covers
Frame and fork are fully chromed; the chrome is in marvelously good condition. With the exception of the CrMo sticker - which I am flattening off the bike and will reglue - the graphics are also in very good condition. There are a couple of edges on the "bird" logos that will need to be pressed down with a tiny addition of adhesive, but nothing worrisome.
With the exception of the bars, wrap, (well, tires, of course) and saddle, I am pretty confident this bike is all original. Some previous owner replaced the original bars with a POS Performance bar. I had an NOS Cinelli from the late 80's on hand, so that was put on the bike. I can only go by a couple of other examples I've located with serial numbers that are very close to mine, but I'm going to tentatively date this to ca. 1984. I am quite willing to reappraise that date when/if new information arises.
One small detail: In the few catalog scans I've come across, and in other examples of Silks, I haven't seen any run with Aero levers like this one is. So I'm thinking that is possibly a later "upgrade."