I just blue myself.
By wild style on 08/23/2007.
Bike tags: Single speed | Commuter | 50cm | BFSSFG | brooklyn | commuter | Greenpoint | IRO |
Click to view other photos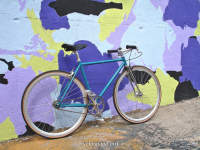 50cm threadless IRO groupbuy

Velo Orange Belleville / Thomson stem 90mm

Origin8 fork, Cane Creek S2

Weinmann DP18, Formula Hub, 28mm Panaracer Pasela TG

170mm Shimano 600 cranks, 107mm Shimano UN73 bb

Animal Hamilton pedals, 1/8" KMC Drop Buster chain

Campagnolo Centaur brakes, Tektro FL730 Brake Levers

50T Specialites TA chainring, 17T EAI cog, Dura Ace lockring. 18T ACS Claws freewheel
Kinda went with a townie makeover for 2011.
Update: added a front basket and black cork grips. All done for now.