CARLOS "Sprinter" (Belgium, 60's/70'S)
By moik on 09/03/2013.
Bike tags: Road bike | 3ttt | Basel | clement | GB | gipiemme | itm | ofmega | san remo | simplex | weinmann | Zeus |
Click to view other photos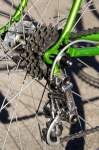 Carlos (Zeus drop outs)/ 56/ 60's-70's

Simplex/ San Remo/ Clement

Simplex/ Super Champion/ Clement

Gipiemme with GB "type professionel" toe clips/ Wippermann

2x5/ 52, 42 /13-22/ Zeus / Regina
Replaced the Tevano cranks with ZEUS competiton, the Hurret FD was replaced by Zeus criterium to reduce the mix of parts of the first build. Also upgraded the brakes from Weinmann 500 to 605's.
Hope you like the new shots...
The previous owner bought the bike in Belgium at "Carlos" - a shop from an ex-professinal racer in 1975. It was used for some races before that and built around 69/70. Don't know the tubing nor the lugs - wich have a quite unique cut out. If you recognize them, please help! I bought the frame and added the "Sprinter" decals - I guess they were made for 'no-name' bikes I've never seen another Sprinter bike for sure. Comlete non-campy european set up. I'm really happy with the result - it's such a nice ride!