Black on Black Miche in Flite
By richfix on 05/15/2013.
Bike tags: Fixed gear | 100 | cinelli | Flite | khs | mash | miche | Primato | ritchey | thompson | vai |
Click to view other photos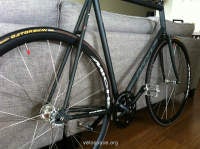 Cinelli Mash/Cinellia Vai

Miche Primato 50t/Miche Primato 107mm

Ritchey Comp Saddle/Ritchey V2 Seat Post

MKS Pedals/Miche Pista Chain
Started in November 2012 and pieced the parts from local and online sources. Built this bike to learn how to put together a simple bike that road well and looked clean.