Le Colin (Colin Laing)
By Shaku on 04/22/2013.
Bike tags: Road bike | 3T | 3ttt | 56cm | campagnolo | chorus | le colin | lugged | mirage | Mutant | supertype | Veloce |
Click to view other photos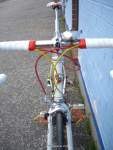 Le Colin / Top Campagnolo, Bottom Unknown

Campagnolo Daytona / Campagnolo Montreal 76 / Continental Grand Prix 700x24c

Campagnolo Daytona / Campagnolo Montreal 76 / Continental Gatorskin 700x25c

Campagnolo Chorus / Tifosi 102mm 36x24tpi

Specialized Toupe 143 / Miche Supertype

MKS GR-9 w/ Pake Cage and Space Straps / Campagnolo

Campagnolo Veloce Ergo / Mirage FD / Chorus RD

12-23 / 53/39 / Lizard Skin DSP 2.5 Bartape
This bike was a lot of fun to build up and is a ton of fun to ride! Fastest build I got done, delayed a bit due to the attempt to find a reasonably priced 102mm Italian BB. It feels super twitchy and quick to dive into a turn. Eats up the road chatter very well and is a super comfortable frame to ride :D Just need to make small adjustments here and there with saddle height.
Special thanks to Stuart and Ian Laing for giving me a shout-out here on Velospace and helping me find more information as well as confirming it as a frame made by your guys' father, Colin Laing. You guys are great!! I can never thank you two enough! It really makes this frame all that more special. I truly feel honored to be able to ride a frame built by your guys' father and hope I have built it up in suitable fashion.
UPDATE 28.04.2013: Got 4th place at the Island Sprint race here in Toronto on this bike! :D