Gazelle Champion Mondial Cyclocross 1981
By Smiley on 03/30/2013.
Bike tags: 1981 | Amsterdam | barcons | birthyear | campagnolo | campy | champi | cross | CX | dura ace | Golden Boy | Mafac | stammie | Stamsnijder | veldrijden | vondelpark | yellow | Cyclocross |
Click to view other photos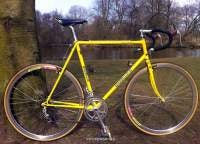 105 / Rigida DP 18 / Golden Boy 28

Shimano barends / Campy NR

Mafac front - Weinmann rear / Mafac

12-28 (not in the pic) / 52-42
Build up the bare frame with parts partly from my other CX (mistery frame), which still has to be repainted. Only the BB was already on the frame and is very functional, so no need (yet) to replace.
Frame is from my birthyear, which happens to be the year good old Hennie Stamsnijder won the Cyclocross World Championship on such a Gazelle Champion Mondial. Unfortunately the previous owner used decals from a later period and also found it necessary to drill bottlecage-holes (oh no!). Still a much better frame than my mistery CX. I may replace the wheels cause they just don't really fit the bike and they make the bike even heavier than it already is.
The rearstays are a bit more beefy build compared to road-Champion Mondials and the BB is a tad bit higher, so the riding sensation is certainly different from my other Champi's