fresh & clean
By a halcyon day on 08/17/2007.
Bike tags: Fixed gear | Commuter | 53cm | deda | iro lc | mavic | sugino | virginia |
Click to view other photos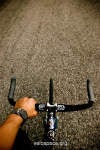 deda akros 31 (clipped), oval concepts oversize w/pinup, champ grips (clipped/tucked)

mavic cxp22/dt 15g/formula, rubino slick

mavic cxp22/dt 15g/formula, conti gatorskin

RD2 messenger 44t, miche primato pista

(secondhand) bontrager race x lite, oval concepts

mks sylvan lite, izumi track
this bike is tons of fun. houndstooth scratch pad for downtown lockups.