Jamis "Pink-O-Tron" Supernova
By Tmeck on 03/13/2013.
Bike tags: Road bike | Commuter | ATAC | bb30 | chester cycles | cross | custom paint | cyclocross | ea90 | easton | force | jamis | pink | red | slx | specialized | SRAM | supernova | Thomson | time | Cyclocross |
Click to view other photos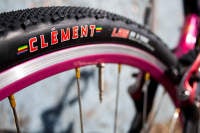 Jamis Supernova / 51 / 2011

3T Ergosum 40cm / Thomson X2 90mm

Stock 1 1/8" -> 1 1/2" tapered, full carbon / Ritchey integrated

American Classic Micro 58 / Sapim CX-Ray / Velocity A23 in hot pink / Clemente LAS

American Classic RD205 / Sapim CX-Ray / Velocity A23 in hot pink / Clemente LAS

Specialized Phenom / Thomson Elite

TIME ATAC XS / SRAM PC1091

SRAM Force / SRAM Force rear / SRAM Red Ti front
Custom painted by the ever amazing Duane of Chester Cycles (Chicago, IL) with a hot pink TRON theme. He normally does not logo the bikes he paints, but it was free work I won from a contest; Number 7 from the One Off frame contest (hence... obviously, the 7s on the HT and stays). And honestly, I'd rather advertise the raddest frame painter in the Midwest than Jamis. Metallic purple flake is underneath the pink and black, and there's a clear layer of said flake over the nude carbon on the seatstays. Named, by him, "The Pink-O-Tron". I love it.
Looks unbelievable in the sun. Looks unbelievable in my stand in my kitchen. Cannot be happier.
Wheels were handbuilt at Angry Catfish in Minneapolis. They are American Classic hubs laced to hot pink A23s with Sapim CX-Rays. Light, stiff, and durable-- Not even a mm out of true even after the notorious potholes left by the notorious Minneapolis winter. Lighter than the previous Easton EA90SLXs that were on it.
Force CX1 coming soon...