VO Polyvalent
By rileykendigoly on 03/06/2013.
Bike tags: Commuter | 650B
Click to view other photos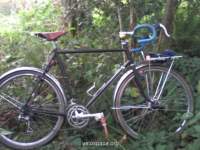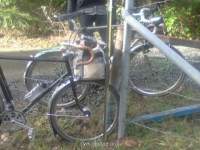 Velo Orange Polyvalent Version 1/ 56 X 59

Grand Bois Randonneur/ Nitto Dynamic 11

Novatech Dynamo/ Pacenti PL23/ Hetre 650X42

Velocity Road hub/ Dyad/ Hetre 650X42

MKS Touring (sometimes Shimano A520)

Suntour Micro-ratcheting Downtubes/ Campy NR front, Shimano 105 rear
This is the best bike I've ever had. Fits right, has big squishy tires, carries my stuff for me, lights up the road without batteries, I could go on...
Parts have changed around. I have listed the most current arrangement.
Extras include:
Front Rack made by yours truly (first photo shows porteur rack, not mine).
Sweet, bright, generator-powered headlight made by my brilliant co-worker.
Handlebar bag made by yours truly.
Silca Frame Pump.