BIANCHI CAURUS 840 *** Hamburg *** SINGLESPEED
By brojjedan01 on 03/02/2013.
Bike tags: Single speed | Bianchi | caurus | Singlespeed
Click to view other photos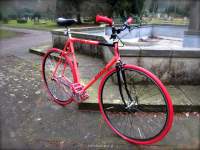 Bianchi Caurus 58 cm / 1989

Miche Perfomance / DiaCompe Dirty Harry
Here is my Bianchi Caurus in pink!
I've invested a lot of time to assemble this bike ....
It drives really well ... and it is an eye catcher ....
I hope you enjoy it!?
Greetings from Hamburg, Germany ...