Cross Club Check Man
By zombiewarfare on 01/04/2013.
Bike tags: Commuter | 3 | check | clubman | commuter | cross | Cross-Check | crosscheck | igh | nexus | surly | three-speed | Touring | Cyclocross |
Click to view other photos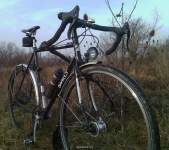 Surly Crosscheck / 58cm / from before they put mid-blade braze-ons on the fork

Salsa Bell Lap / generic what-have-you

Surly / Cane Creek S-something

LX dyno hub / Salsa Delgado / varies

Nexus SG-3D55 3-speed (the fancy black one with silent clutch!) / Salsa Delgado / varies

tyically VP Bearpaw / can't tell

Nexus grip shift attached to a 3/4" pvc hose connector plug thinger / Nexus 3-speed hub

Avid V-brakes / Tektro V-brake lever for drop bars

44-22, with 3-speed hub that makes for normal, low, and emergency super low
A commuter inspired by 1950s 3-speed 'club' bikes. Better photos to come!
Update Jan 18 '13: At -10C, the hub squeaks on 3rd gear. I wonder if i need to replace its grease with oil.