Sime's Bike
By Sime on 08/13/2007.
Bike tags: Fixed gear | Commuter | 58cm | allegro | cant stop wont stop | dick burger | fixed gear | guava juice | Melbourne | melburn | richmond | shifterbikes | street fixed | Terrible One | Track |
Click to view other photos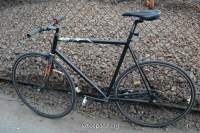 Steel risers, Terrible one Joe Rich grips

Aluminium Allegro, half generic headrset upper, half shimano STX lower

High Flange sealed Bearing to alex rim. 2 cross black DT spokes w/alloy nips. Zaffiro Pro rubber

High Flange sealed Bearing flip flop track hub to alex rim. Dura Ace cog. 2 cross blk DT spokes w/alloy nips. Zaffiro Pro rubber

RPM 170mm, shimano sealed BB

sealed bearing alloy cage, Christophe toe clips, Soma Double straps, kool chain

44t front 16t rear, fixed
(other Bits)
Cane Creek front brake.
Shimano DX lever (had rep the ol bmx bits)
This is my Daily A to B.
didnt like the original white or decals, so i painted it black, up the punx haha.
got rid of the gross 'zoom' drops and stem, then chucked on some steel risers.
gave the velo seat to Dad and put on my old worn in ravX seat (cheap yet very comfy)
Rebuilt the wheels after breaking 3 rear spokes, and then did the front for the hell of it.
Ride Safe.