Girardengo 1950ies
By strongwalker on 12/09/2012.
Bike tags: Road bike | campagnolo | Girardengo | huret | simplex | stronglight |
Click to view other photos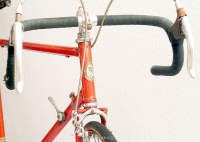 Simplex Prestige, Huret suicide
A quite nicely preserved Girardengo from the 50ies. Constante Girardengo from Novi Ligure dominated road racing from 1910 to 1930 and was dubbed the first "Campionissimo".