Bottecchia Professional SL for my girlfriend's sister
By PHILosopher on 12/04/2012.
Bike tags: Fixed gear | 50 cm | bottecchia | CA Bay Area | campagnolo | italian | lugged | road bike | specialized |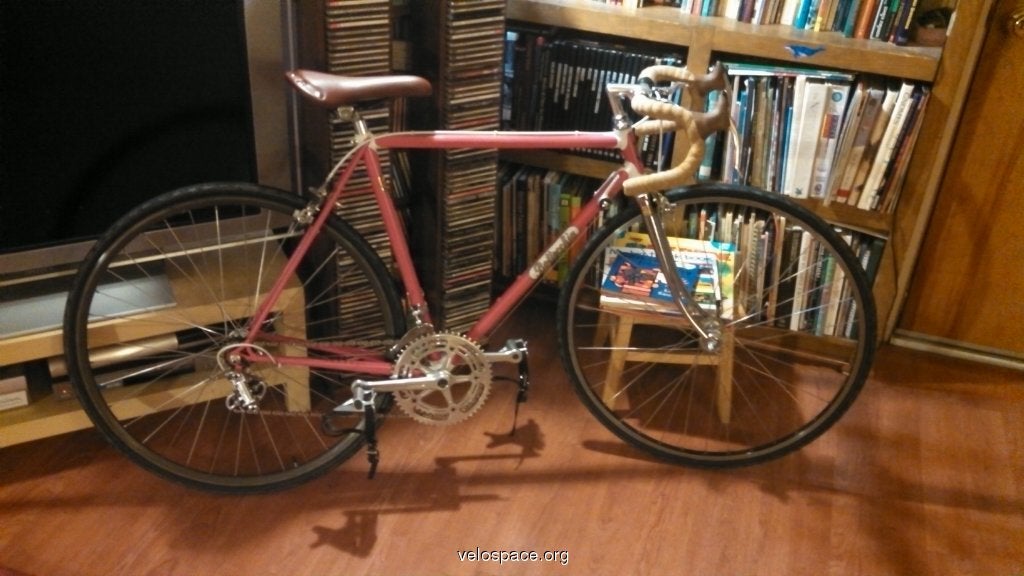 Click to view other photos

Bottecchia Professional SL / 50 cm / 1990's

Mavic/ Mavic 321 cd/ Specialized pro

Avocet / Matrix/Specialized pro

Campy nouvo Record starda 170/ Campy record cups,bearings and axle

ebay brooks look-a-like / Stock

MKS sylvan pedals/ KMC chain

Campagnolo syncro 2 shifter / Campagnolo Nuovo Record Rear Derailleur Pat 72/ Campagnolo Nuovo Record Front Derailleur

Dia Compe / Dia Compe aero levers

Suntour perfect 5 speed freewheel/ Campy 52-32 chainrings
My girl wanted to build her older sister a bike after the 3 of us went on a ride over Thanksgiving. He sister loved the ride so much that my girlfriend commissioned me to build her up a road bike. She funded it and I choose the parts, and this is what I came up with. I did all the painting and decals. As you can see for the original shots of the frame, there was some substancial rust on it, so it needed a lot of TLC. After around 2 and a half months this is the finished product! The frame is way too small for me, but I gave it a ride just to see how it rode, and it felt like riding a go-cart: really quick and responsive and just a really fun little bike.
Her sister lives in Louisiana at the moment, and apparently bike safety is awful out there, so were not going to mail it out to her Instead were going to give it to her when she comes home for the holidays and make it a big surprise. I'm not gonna lie, I'm pretty hyped about this. I'll post an update about the reaction.
Let me know what you guy think!