Bridgestone XO-1 1992 with SRAM Rival
By runningDoc on 11/26/2012.
Bike tags: Commuter | 26 | bridgestone | cyclocross | rivendell | xo | XO-1 | XO1 |
Click to view other photos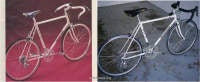 Bridgestone XO-1 / Size 48cm / 1992

Rithey Logic Curve / No name polished aluminum stem

Bridgestone Atlantis / Cane Creek Classic 100 1" threaded

32 spoke / Shimano RX-100 / Araya RM-17 / Michelin Wild Run'r 1.1 26" 28c

32 spoke / Shimano RX-100 / Araya RM-17 / Michelin Wild Run'r 1.1 26" 28c

Avocet Racing 1 Saddle / Zoom Seat Post

SRAM RIVAL / SRAM Rival FD and RD

11-28 SRAM Cassette / 53/39 Chainrings
This is a build up for my wife... so it'll actually have a shorter stem on it, but I had the longer stem on it because I went for a test ride.
she's always wanted a proper road bike that didn't look weird as a small frame to fit her 5'4" stature. with the 48cm frame and 26" wheels she has proper stand over clearance, and no toe overlap.
the 1992 Bridgestone XO-1 was a really weird bike... first off its a road geometry frame designed for 26" wheels. Then compared to the more popular 1993 XO-1 (in pumpkin orange) it has regular caliper brakes instead of cantilevers. Lastly it has braze ons for fenders and racks.
despite the regular brake calipers there is a LOT of tire clearance even to fit a MTB tire. Eventually I'll get another wheelset with MTB mounted to swap over if ever we do some heavier dirt riding, but the 28c tires are adequate for most riding (road/dirt) anyway.
speaking of the tires... the Michelin Wild Run'r 1.1 tires are interesting themselves... 26" 28c road slicks that are around 200g each. awesome specs for a 26" wheel.