Cinq cent dix (Trek 510)
By latron on 10/09/2012.
Bike tags: Commuter | Deore | mavic | Reynolds | steel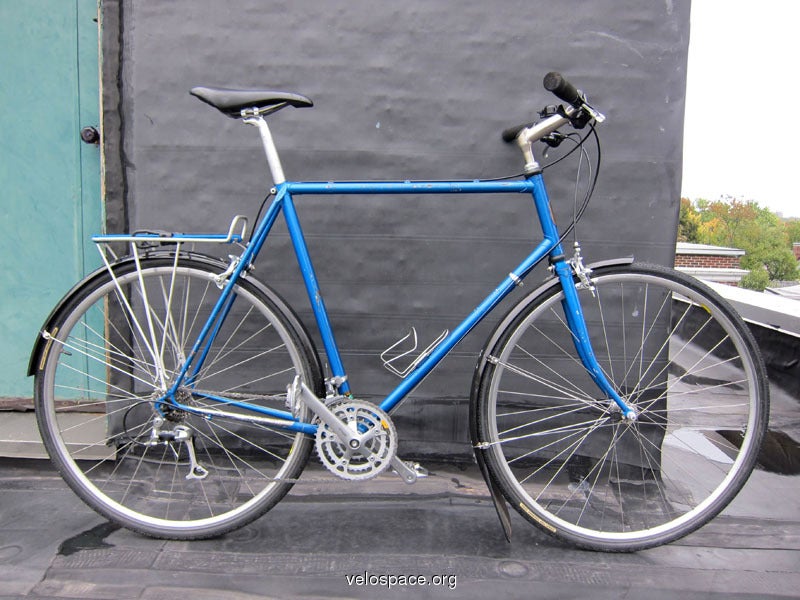 Click to view other photos

1983 Trek 510, 24", Reynolds 501 tubing, lugged, Suntour dropouts

Unbranded arc bars, VO grips; Zoom stainless-steel stem

Stock fork; Stronglight roller-bearing headset

Shimano RX100 hub, Mavic CXP11, 32 spoke 3x; Continental Top Touring 32, full SKS fenders with mudflap

Shimano RX100 hub 8-speed; same rim, etc., as front

Shimano Deore LX triple, 175mm; Shimano BB-UN54 122.5mm

Serfas Cosmos; Tom Ritchey-branded Kalloy, 27.2mm

Shimano PD-A530 dual-sided; SRAM

Shimano Deore LX 8-speed shifters; Shimano Deore XT front and rear derailleurs

Shimano 600 medium-reach sidepulls with VO pads; Deore LX levers

Stock rings, 48-38-28; 13-26 cassette
Not so long ago, I built up a Giant RS940 frame, but despite all the work that went into it, the bike wasn't quite right. Crazy-tight front end, to say nothing of a retina-damaging late-'80s paint job. Poked around on Craigslist, eventually found an inexpensive yet interesting Trek 510. Terrible photos and junk parts, but there were good signs: Reynolds tubing (albeit 501), horizontal dropouts with adjusters, long chainstays. The frame was built for 27" rims, so switching it to 700c would also leave plenty of room for fenders and good-sized tires.
Got the bike (I was the only bidder), stripped all the old parts and donated them to the local bike co-op, then transferred as many components from the Giant as possible, though that turned out to not be a lot: wheels, derailleurs, seat, rack, and brake pads, of all things. Found a selection of inexpensive period parts to fill it out: no-name arc bars, Deore shifters and crank (the old bike had a Deore crank too, but it was 180mm and I didn't care for it), gorgeous Shimano 600 medium-reach brakes, and even some NOS Continental Top Touring tires.
All told, the new bike is pretty damn ideal: A classic Trek road frame mated to tough-as-nails Shimano Deore components -- '80s roadie meets '90s MTB. Performance is great too, with a lively yet comfortable ride and crisp shifting. It's also rather pretty, but has enough scrapes and dents to keep its ego in check.
P.S. The color-coordinated bungee cord is a complete accident. It predated the bike, and it's not like I shopped around for an electric-blue frame to match the bungee.