1981 Holdsworth Professional
By azorch on 09/16/2012.
Bike tags: Road bike | Holdsworth Professional
Click to view other photos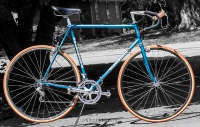 This frame/fork was built up out of parts I had on hand - primarily Shimano 600, with Cinelli bars and stem, and a Turbo saddle. (I have recently replaced the Turbo with a 1973 Brooks Pro.) Tires are the 700 x 25's that I once had on my Bob Jackson, and which ride very nicely (wish I could find another pair of these.) I'll get it all dialed in and then this ride is destined for my office for lunch time rides to grab a bite to eat. Ridiculous driving half a mile for food.
***UPDATED*** This bike has had some changes since I first added this post. Note that the Turbo has been swapped out for a black Brooks Pro, more "proper" road bike levers have returned, and a more stylish/comfortable (to me, anyway) black cotton wrap added. More correct pedals and cages, also. Gears are still pretty tall, but this is one fast bike.