BMC Timemachine TM01
By Golly Ciclista on 08/19/2012.
Bike tags: Road bike
Click to view other photos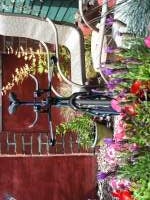 BMC Timemachine TM01/S/2012

Rotor 3D Power/ BB30 Ceramic Bearings

Speedplay X2/ KMC XSL Gold
My New TT Machine, built it up yesterday pretty straight forward just the brakes a bit fiddly to set up, first race in a couple of weeks will be the Welsh 12hr TT Championships.
Took it for a spin today and it goes like shit off a shovel.