Green Raleigh Track
By phasergunalex on 08/04/2007.
Bike tags: Fixed gear | fixed | lugged | Raleigh
Click to view other photos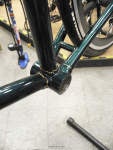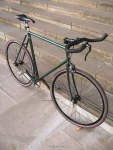 Raleigh Track (from sometime in the 70s)

Profile Airwing with crappy stem (were changed to Nitto bars and stem before selling)

Matching Raleigh fork with 105 headest

Truvativ Double/Shimano BB

Dura Ace 16t cog with 44t chainring
Unfortunately this is no longer my bike; after spending a little while putting it together after a respray and lug lining i decided it was, at 61cm, too big for me! Went to a good home though and is still going strong!